He's already an institution, a mentor, a workhorse and all-around good guy, but if Melvin Bragg ever gets around to calling it a career at ClarkDietrich, his name will not soon be forgotten.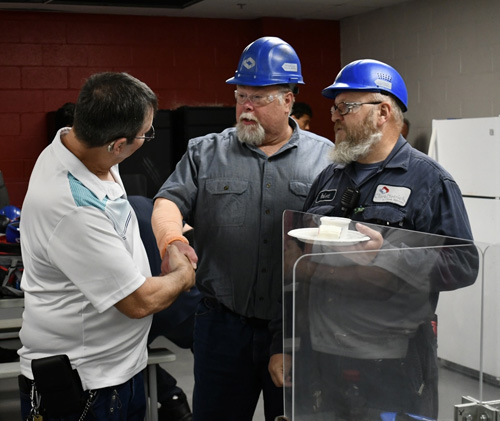 Bragg's Vienna employer celebrated his 50th anniversary at the plant with a warm reception including his wife, current and former co-workers, and corporate executives who traveled in for the occasion.
Days earlier, the plant revealed the winning entry in a "Name the Robot" contest among employees to memorialize a new piece of automation equipment brought in to help load and stack pallets. The name plant employees decided on? "Melvin."
"The timing could not have been more perfect. It's definitely a sign of the amount of respect they have for him," said Tina Parker, Senior HR Business Partner.
The accolades didn't stop there.
Everyone's got a kind word to say about Melvin
"He just loves to work," said Melvin's wife, Gertrude. "He ain't quitting. I tried a few years ago and he said, 'No, I'm working.' He'll retire when he's ready."
"He's had a tremendous career here," said Chris Plant, Plant Manager. "I think he's done every job in the plant, and we appreciate everything he's done."
"He's just a pleasure to be around," said Safety Manager Ken Von Bergen. "To make it 50 years with one job I think it's just incredible. He's an asset you don't want to lose."
"He's a great guy, always very helpful," said Mill Operator Stephen Nyako.
"He doesn't keep his institutional knowledge to himself, Melvin's going to give you everything he's got," said Supervisor Mike Fountain.
"He puts in more hours than anybody, and everybody likes him," said Supervisor Mike Long.
Secrets to Melvin's longevity
It was September 1972 when Bragg's brother-in-law told him about the opening at what is now ClarkDietrich. Bragg, then just 18, had been performing warranty work at Martin Chevrolet.
"I went in, applied for the job and started working the next day," Bragg said.
His starting wage was $2.30 an hour as a guillotine operator, which Bragg said was among the highest paying jobs in the area at the time.
Bragg, a man of few works but countless smiles, attributes his staying power to two time-tested pieces of advice: "Keep a positive attitude and you've got to enjoy what you do," he said.
Congratulations, Melvin! And keep up the great work.
ClarkDietrich is a member-manufacturer of Mahoning Valley Manufacturers Coalition.