Creative thinking isn't a foreign concept to engineers. They understand what it takes to "manufacture" things we use every day. John O'Neil, senior vice president at Integrity Technical Services (Integrity Jobs) in Akron, Ohio, knows this all too well.
Why join MVMC?
Integrity Jobs echoes MVMC's mentality when it comes to the "stronger together" motto. O'Neil says it's great to be able to recruit in the manufacturing world. He says doing things with integrity is something he takes seriously.
"Everyone is looking for good talent. I believe in a good reputation. I want people to know we did the best we could. I take it very personally when things don't work out for everyone," O'Neil said.
He first heard of MVMC through the Youngstown-Warren Regional Chamber, and then was put in contact with senior project manager Alex Hertzer.
"Alex is the best person you could meet as the first impression of an organization. Very helpful in this process," O'Neil said.
He was surprised to see the list of current members because he noticed he's already done business with most of them. He's looking forward to building those relationships and continuing to help fill open positions. Integrity Jobs deals with at least two thousand companies, and manufacturing is a big portion of the requests for skilled labor workers.
Back to the beginning
O'Neil started out as an engineer with Syntonic Technologies, which is no longer in business, as a field technician for the Ohio Turnpike Commission. He serviced all the electronic equipment, mainframes and even the Ohio State Highway Patrol communication systems.
Five years later, he ended up at Diebold solving problems with ATM machines. He closed that chapter in 1989, and then was contacted about working for a career staffing service.
O'Neil was a sales associate for a year before leaving to partner with two former bosses. Together, they formed a company called North Star Resources, which was outside Cleveland. He was vice president of sales.
"The owners were great people, and I worked closely with them. Unfortunately, they both passed away. One in 1995, and the other in 1996. They were always in the staff services field," O'Neil said.
Rebuilding a business
Since most of the staff was from Akron, the company was relocated and changed names to Integrity Technical Services (Integrity Jobs). O'Neil's wife, Judy, was named the CEO. She owns 100 percent of the company and takes care of all the financial business.
"In 1996, Integrity Jobs was born, and we've been growing from the bottom up ever since. Coming from engineering, it was easy to grow a network. The first few months of business brought in about $2 million, and then it was up to $6 million within a couple years," O'Neil said.
During the Covid pandemic, the company took a hit like many small businesses. Several people were laid off, but it's starting to pick up again.
"We are hiring in sales and recruiting to build things back up. We have a new sales rep for the Youngstown area now," O'Neil said.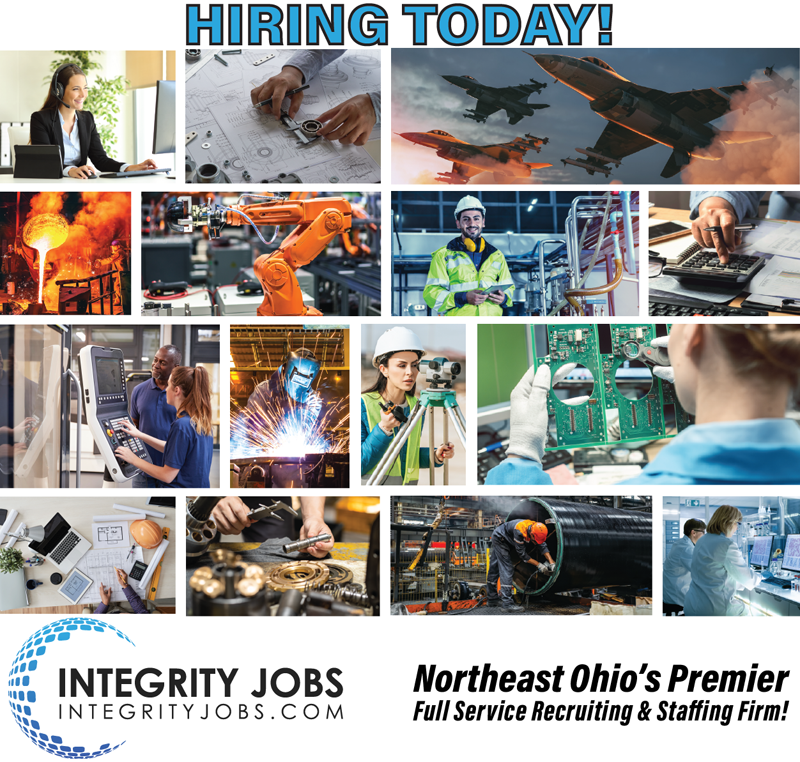 Putting people first
He stressed the staff is constantly reaching out to employers to see what jobs need filled. They're also dedicated to helping job seekers. He says good candidates are scarce, and shortages are hard to overcome. It also takes some convincing to get employers to sometimes choose people who aren't the perfect fit.
"We get new jobs coming in every day. Late in the year, the numbers increase. You never know what's going to happen day-to-day. With turnover rates, there's not enough time in the day to replace people," O'Neil said.
Improving his clients' lives is something he credits as making everything worthwhile.
"If I was in this for the money, I would've left a long time ago. It's a rush when you put someone to work that hasn't had an opportunity. People thank me for finding them a job they've been looking for a long time to find. I had the chance to help them, and that's important," O'Neil said.