The workforce of the 2020s is rapidly changing due to the COVID-19 pandemic and other economic stressors. This has resulted in college enrollments declining nation-wide, universities downsizing, and more young people heading directly into the workforce.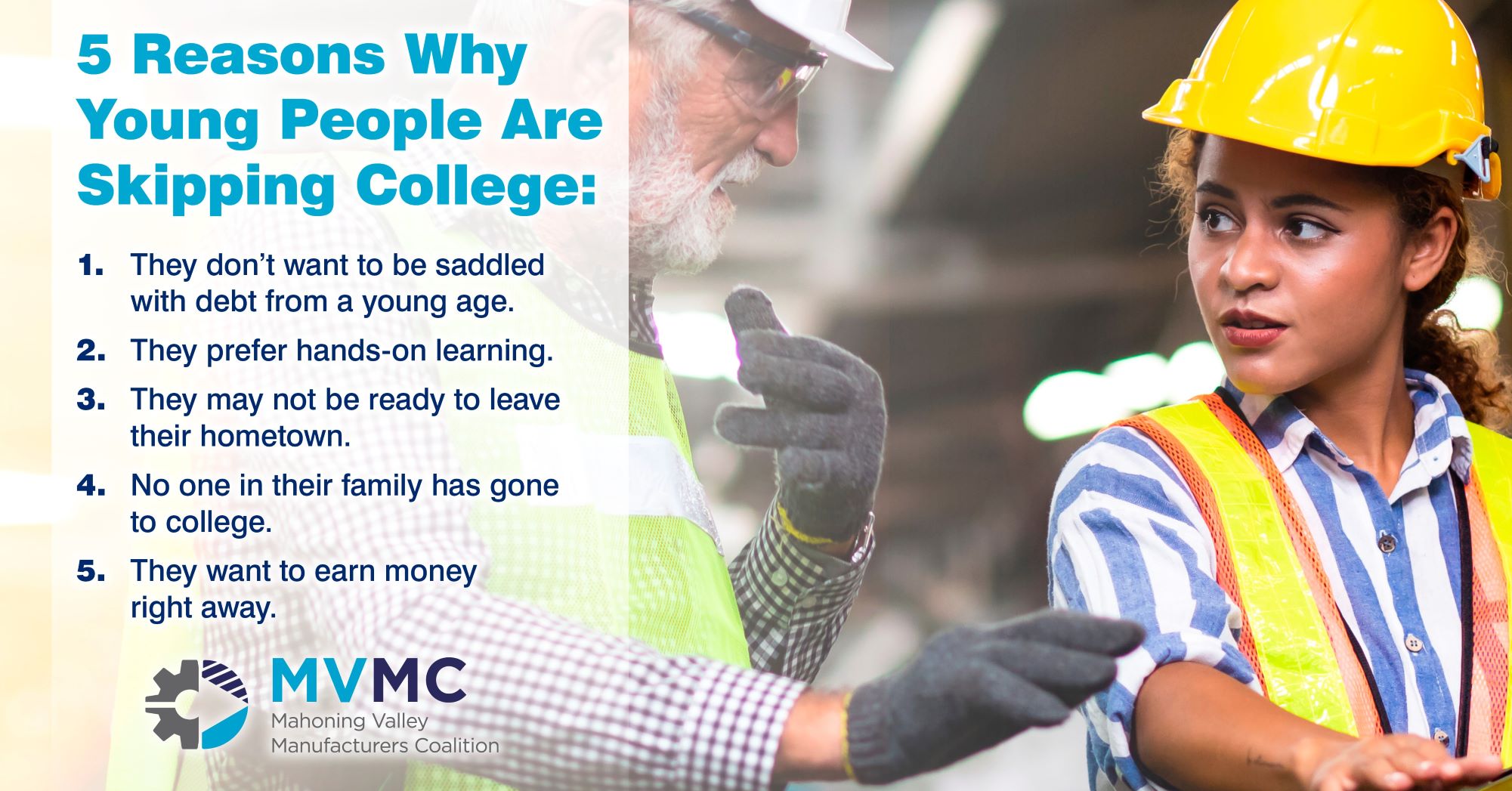 Efforts by many industries – manufacturing included – to promote rewarding career options that don't require the time and expense of a college degree are working. They're capturing the attention of both young people and their parents.
What is it exactly about these go-directly-to-work after high school career paths that resonates most with young people? Through our own observations and from those we've curated from trusted partners, it often boils down to one or more of the following five reasons:
• No debt, please. They don't want to be saddled with debt from a young age. The thought of taking on tens of thousands of dollars in loans with a level of uncertainty about their payoff is daunting to teens. And rightfully so. The average student loan debt per person is $36,510 according to the College Board. And get this, it's been reported that as many as 4 out of 10 individuals with student loan debt never finished their degrees.
• Hands-on learning preferred. They prefer hands-on learning. Trade schools offer certifications and apprenticeships that allow for earn-and-learn, on-the-job training.
• Prefer staying close to home. According to Imagine America, they might not be ready to leave their hometown. The college admissions process can be overwhelming. Many teens grapple with the decision for years before they graduate high school. Choosing the right college is stressful, and many teens need the opportunity to stay local for a few years while making some money. For some, this can become a career.
• No family history of college. No one in their family has gone to college. More than 40% of incoming college students are first-generation, according to the Brookings Institute. Navigating the world of higher education is hard enough when a parent or guardian has been through the process. Without a guiding hand, this option can be difficult to tackle for teens.
• Making money is the priority. They want to earn money right away. Some teens need to support their families as soon as they graduate high school. Others are set on what career path they want to pursue and know it doesn't require a four-year degree. Manufacturing careers are a great way to find on-the-job training and enter a career that will pay well with great benefits soon after leaving high school.
These trends point to the job candidates being out there and receptive to what manufacturing careers have to offer. They underscore the need to continue to aggressively market to them to attract them to our industry. Today's young people are the future of our workforce.
For a current list of active job openings among MVMC members, visit workinmfg.com.