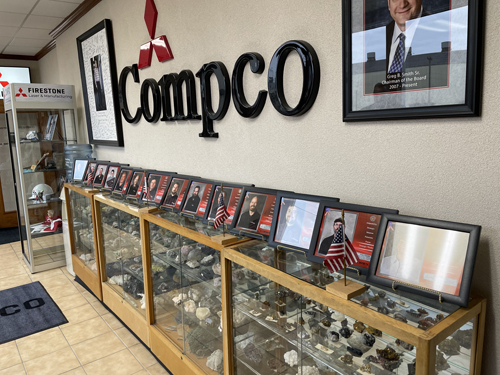 The main lobby of the Compco office in Columbiana proudly displays plaques honoring its employees who have served in the Armed Forces.
About 10% of Compco employees are Veterans, according to Katy Mumaw, corporate director of sales and marketing.
The Veterans display remains up year-round and has been there for about 10 years. Each employee-Veteran is pictured along with their "Strengths" and service history.
Manufacturing careers and retired servicemen and women often go hand in hand, says Rick Kamperman, manager of product and process development, and Veteran of the United States Marine Corps.
For Veterans in need of a job after their military career, there are plenty of opportunities in the Mahoning Valley for work in manufacturing.
Compco, a manufacturer of various types of tank heads, is particularly popular with Veterans. Kamperman believes this is due to the problem-solving nature of the projects the company works on.
"One of the mottos from the Marine Corps is 'adapt, improvise and overcome,' and that's a lot of what we do. We work with our customers, they come up with a problem, and we come up with solutions," Kamperman said.
A career in manufacturing can provide the same fast-paced, solution-based days that military work consists of.
"In manufacturing there are many facets that come along. There's always problem solving," Kamperman said.
These aspects of the job are what remind him of his work in the Marine Corps.
Greg Smith, Compco Chairman of the Board, says he is very passionate about incorporating Veterans into the Compco team and honoring them. His philosophy is shared throughout the organization.
"Compco has an 'Honor Coin' that is awarded to the men and women who have served to thank them for their service; with Compco's logo on one side and symbols representing different branches of service on the other," Mumaw said.