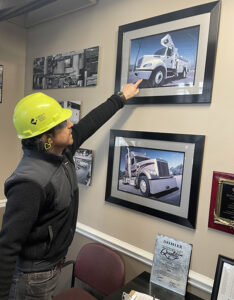 Liberty Steel Industries, of Warren, is now a member of MVMC. Company headquarters sit on Larchmont Avenue Northeast – with the plant across the street on Dietz Road. As many Mahoning Valley businesses can relate, Liberty Steel Industries is being passed down the family line.
It was founded in 1965 by Jim Weller Sr. There are about 100 employees right now, and the hope is to grow larger in the future, according to John Weller, who is third-generation management. He is the materials coordinator and in charge of purchasing at the plant.
Weller remembers starting out washing trucks as a kid, then working at the plant through high school, college and eventually becoming full time in 2012. His grandfather (Weller Sr.) is 92 and remains involved with the company.
"He still comes in here a couple days a week to see what's going on," Weller said.
A Warren Ohio Steel Service Business
Weller says the company is in the steel service business. Workers handle cold and hot rolled steel that is stamped, blanked, and molded into parts for the heavy trucking industry, as well as lawn and garden.
One high-volume product the company makes is shovel head blanks. Weller said they produced 6 million of them in 2021. The blanks end up being formed into different types of garden shovels branded with recognizable names like Craftsman and others.
"You could walk into just about any hardware store, and you'll be able to tell it's one of ours," Weller said.
He chuckled when explaining the heavy parts made for the chassis in the trucking industry.
"We pretty much make the stuff you can't see."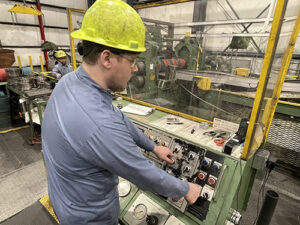 Liberty Steel Industries or Liberty Steel Products?
There was a company split in 2015 with Liberty Steel Products in North Jackson. Family members also run that location.
"Despite it causing a little confusion, we kept the names mainly because of our good reputation in the community," Weller said.
Liberty Steel Industries also has a Lordstown distribution center where about 80% of the products get finished, assembled, packaged, and then shipped right to customers. There is an additional stamping and welding plant in Saltillo, Mexico.
The Warren plant runs 24-hours with three shifts Monday through Thursday. There's also an option to choose 12-hour shifts Friday through Sunday. Weller hopes to attract new employees with that schedule.
"We need to give the guys working now a break. They're putting in long hours with a lot of overtime, too."
Why join MVMC?
Liberty Steel Industries is focused on enhancing workforce development, so it made sense to join the Mahoning Valley Manufacturers Coalition. The company is looking for people to fill spots in just about every area.
"We need general laborers, press operators, forklift drivers, welders and more," Weller said. "We're trying to grow from the bottom up – from general labor to engineers. We hope being part of MVMC can help."
The plant also needs people who are interested in robotics training. Weller says it's something the company has been using more.
"We're not replacing workers with robots. We're just taking those workers and putting them in other places where they are needed more."
He also says making new connections doesn't hurt in hopes of growing in the future.