What do you get when passion for the skilled trades is mixed with a focus on finding people to work in manufacturing? The answer is Rust Belt Recruiting in Rocky River, just outside Cleveland.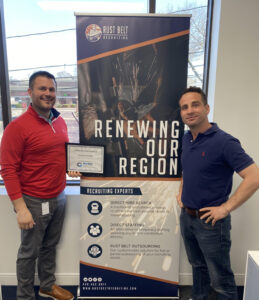 The company recently celebrated its five-year anniversary. The owner, Taylor Evans, recognized the need for manufacturing workers and recruiting for those jobs. Evans grew up in what's known as the Rust Belt but is familiar with the negative connotation often associated with it. He decided to do what he could to shine a positive light on the region.
What sparked the interest in manufacturing
He grew up in Reading, Pa., a southeastern city which is the fourth largest in the state, and much like Ohio, big in manufacturing. That's what got Evans so interested in the industry. Evans says his dad was someone who read every book he could, and among the list, was a book of all the best colleges in the country.
That's where Ohio University comes in – along with Evans' tie to the Buckeye State.
"This school was always on my dad's radar, and the first time I set foot on campus, I was in love," Evans said.
It all comes back to Cleveland
After graduating from OU, he took a sales job with the Cleveland Cavaliers for a while, then worked for the Greater Cleveland Sports Commission. In 2013, Evans left for the Texas Sports Commission, in Austin, but left his heart in Cleveland.
"Four months before I left town, I met my now wife, who was a single mom at the time, and we dated at a distance for two years," Evans said.
He joked about his coworkers teasing him because he spent more time talking about Cleveland than Austin – which he was being paid to promote! Evans returned to the Cleveland area in 2015 and has been here ever since.
Making connections that count
The general landscape is changing for manufacturing, and Rust Belt Recruiting wants a hand in renewing the region, including the Mahoning Valley. Digital marketing coordinator Annie Maglicic says the company wants to connect manufacturers to their most essential resource – a growing workforce.
"We're passionate about skilled trades and how valuable careers are in those fields. We make sure candidates are getting placed and companies are getting quality people working for them. It's all about giving people the tools they need and leaving them in a better place," Maglicic said.
Right now, Rust Belt Recruiting has 12 employees and mainly does business in the Midwest. There are also some clients in the southeast. Maglicic says recruiters focus on staffing full-time jobs and not temporary ones. The idea is to get more people in long-term positions.
"The company started with hiring mostly for production roles in manufacturing, but we also get some requests for more senior roles like engineers," Maglicic said.
She says sometimes recruiters have in-person meetings with companies to get a better handle on what's needed. The owner is also hands-on in creating relationships with those looking to do business with Rust Belt Recruiting.
The company is also challenging the familiar narrative that people don't want to work. Maglicic says it's not true, and people do want jobs.
"In a way, we're helping to restructure businesses to reach the modern workforce. In turn, we're helping jobseekers keep a broad focus but maybe narrowing down what they excel at, so they find the best fit," Maglicic said.
Why join MVMC?
With sights set on growth, and manufacturing a priority, it makes sense for Rust Belt Recruiting to become a member of the MVMC. Evans hopes to contribute to the ongoing revitalization of the industry. Although the company isn't a typical member, he wants to build connections with businesses and employees to assist them with their needs.
"I saw an opportunity to build a premium recruiting agency focused on one of our country's greatest needs – the industrial workforce. We focus our time and effort on recruiting workers motivated to impact the companies they work for and support companies that view employees as an asset and treat them as such," Evans said.