Imagine having your mom as a boss.
That's the case for Peter Levitski, a welder at MVMC member manufacturer Gasser Chair Company in Youngstown.
Mother Dolores is welding group leader, and together they make up that department.
"We get along very well. We think a lot alike," Dolores said.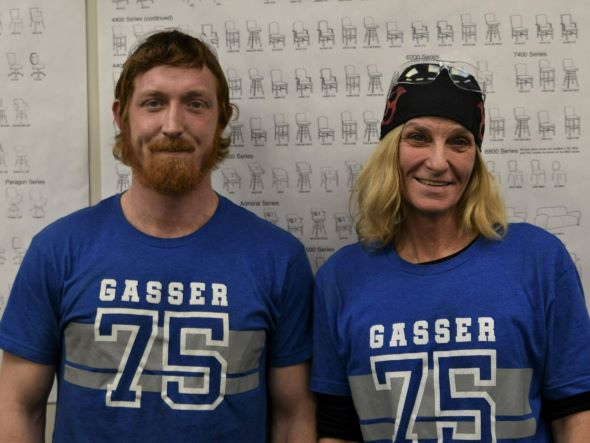 Sparks fly with new job
Since 2007, Dolores has been with Gasser Chair as a welder.
"I've always been fascinated by welding," she said.
After her husband died, Dolores was raising three children on a minimum wage job.
She decided to learn to weld, which is what Peter's dad did for a living.
"I just absolutely love it," Dolores said, adding she enjoys building things.
Prior to joining Gasser, Dolores didn't realize the amount of time that goes into making the best seat possible.
"I never knew what it took to build a chair. It's the height, how it sits, the size to slot machine or table. Once I see what I've done it makes me proud."
Work and actual family
Dolores also loves where she works, because the company puts family first.
"It feels good to get up in the morning and come be a part of that," she said.
Dolores taught Peter the basics of welding before he was 10 years old.
"She actually just handed me down her original welder," he said.
Working with his mom isn't difficult because Peter said he knows what's expected of him.
"I'm lucky enough to work with my mom. Our communication is awesome. I don't like to disappoint her, so I make sure to do the best I can."
They work so well together, that even though Dolores is right-handed and Peter's a lefty, they have learned to weld with both hands and put each other's stations back together when they "borrow" each other's space.
When they aren't working at Gasser, Dolores builds hot rods, does custom welding and spends time with her grandchildren.
Pete has three kids who keep him busy, along with a roofing business where he's Dolores' boss.