Even though Savana Cline is fresh out of high school with a lot of ropes to learn, her reputation shines bright at Trivium Packaging in Youngstown. Her demeanor seems quiet and shy, but she's passionate and hard-working.
Savana and a few others in her class from Choffin Career and Technical Center in Youngstown participated in a three-week high school WorkAdvance bootcamp in spring of 2023. After graduating, she was hired in June as a general laborer at Trivium.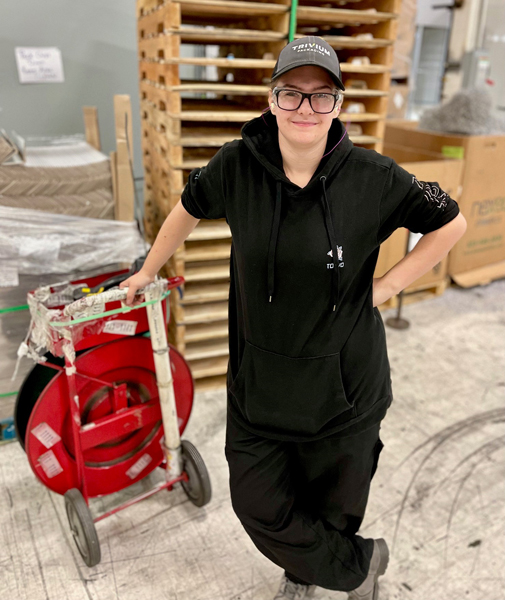 Taking a chance on WorkAdvance
Savana was onboard after MVMC and a Trivium representative came to her class to do a presentation about WorkAdvance. However, manufacturing wasn't always at the forefront of her mind.
"I was going to Choffin for culinary, and I really liked that," she said.
Out of curiosity, she signed up for the bootcamp.
"We had classes at Eastern Gateway Community College and eventually went to Trivium for a tour," she said.
The classes consist of learning math skills and basics about manufacturing. The National Center for Urban Solutions in Youngstown offered career readiness training to help with communication, building a resume, the interview process and career coaching.
At the plant, the noise shocked Savana at first, but she quickly acclimated. She even encouraged her doubtful classmates to stick things out and keep trying.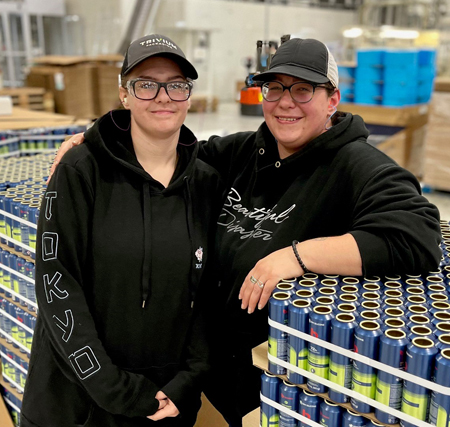 "They showed us the line machines in the beginning, so it was a little overwhelming. There was a lot going on," she said.
She felt more at ease after learning other positions were available that she preferred. Trivium is also nothing new to her. Savana's mom, Christine, has been at the company for more than a year as a quality assurance technician.
She says the WorkAdvance bootcamp experience was rewarding, and the process was smooth.
"Everything was easygoing, and the staff was helpful. They would even get us food and snacks. We got individual help, and I have everyone's number to call anytime," she said.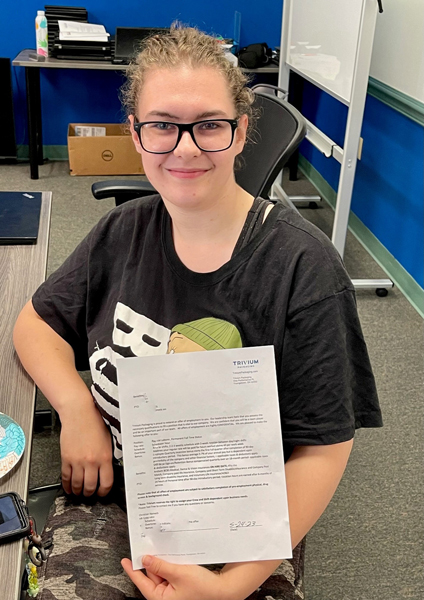 At the ceremony for completing the bootcamp, she signed an agreement to work at Trivium.
"I was excited and a little nervous because it was new, and I didn't really know anyone. I only got to see a small part of the plant, but I was interested in everything," she said.
Bring on the boxes
Savana's job is packing boxes of cans that get shipped to customers in the U.S. and Brazil. At the start of her shift, she checks two buildings for packing assignments. Then, it's off to the races to get boxes ready for shipping.
"I don't know the exact number of boxes I can do in a day, but I know I can get through a lot," she said.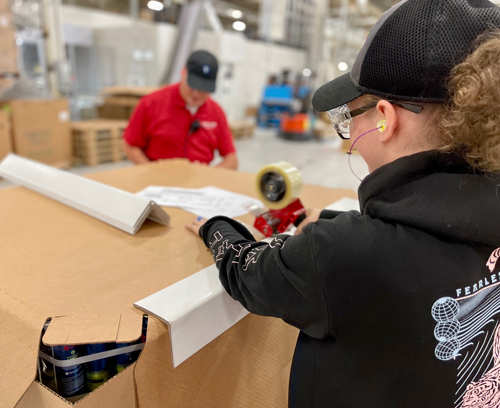 Bill Church is Savana's manager. He says every customer dictates what's needed for packing, and she gets the information from the computer.
"It shows the name of the product, the details for the order and how to pack it," Savana said.
Once everything is boxed, a forklift either takes it to storage or to a truck, if it's available.
High praises and hard work
Trust and honesty are two things that are notably apparent in Bill and Savana's working relationship.
"She doesn't need managed. She hit the ground running. When she started, I showed her what to do, and the next thing I knew, she was bouncing back and forth packing boxes. She was also training new people within days," Bill said.
He says the job is helping Savana with communication skills and getting her out of her comfort zone. Most importantly, she comes in and gets the work done.
"Some kids don't have a foundation as good as Savana's. She sets the bar high. There's nothing she won't be able to do if she puts her mind to it," Bill said.
Right now, she's working dayshift – 7 a.m. to 7 p.m. The days off alternate, so in a two-week period, she works just seven days. General laborers start out around $16 an hour at Trivium. Then, raises are given for certain benchmarks and promotions.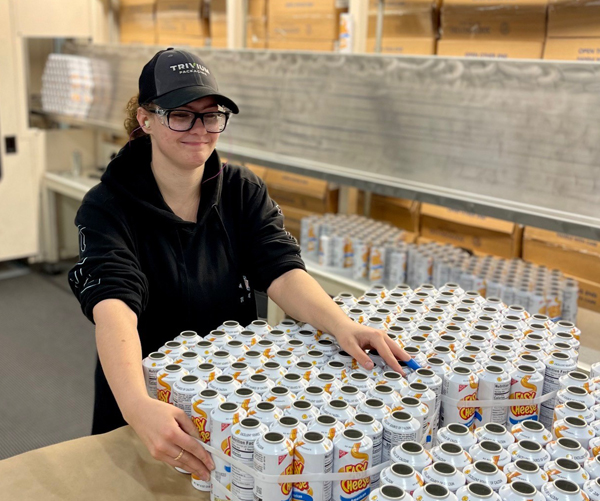 Financial freedom and a bright future
Savana isn't dismissing the idea of moving up at the company.
"I'm still getting my feet wet, but I would eventually think about moving to a line job," she said.
Along with Trivium's good benefits package, she's most excited about what this job means for her financial future.
"First, there's no college debt. I feel like I will retire far better off than my parents will. I am going to be well-equipped and prepared if something does happen in the future. All I'm doing right now is saving money," Savanna said.
A couple of her goals include owning a house and a truck someday.
Savana had three different food-related jobs before working at Trivium. In addition to her cooking skills, she also has experience with construction, fixing cars and tree cutting.
"That was because of my dad. I would do side jobs with him. I wanted to learn that stuff," she said.
Art, crocheting, woodworking and embroidery are also some of her hobbies. She also stays busy keeping up with her five siblings.
Savana is proud to spread the word about manufacturing jobs – even if it's just planting a seed in someone's mind.
"I talked to a friend who was going to Choffin for welding, but he decided to go to college for now. I also might get to speak to other students who are interested in these jobs," she said.
Her best advice for those starting out is simple.
"Just give it time. If you think a job is not for you, look at other options. If you're not a good fit in one place, you can always try somewhere else."