With just a few steps inside the America Makes building in downtown Youngstown, it's easy to justify why a partnership with the Mahoning Valley Manufacturers Coalition makes sense. There's a modern manufacturing atmosphere, and both organizations are committed to various adult and youth outreach efforts.
The collaboration started more than year ago, and recently, the MVMC had the chance to be involved with students in the Additive Edge program through America Makes. MVMC senior project manager Alex Hertzer did presentations for 8th graders from Poland Middle School, as well as freshmen and sophomores from Mahoning County Career and Technical Center and Valley STEM + ME2 Academy about opportunities in manufacturing careers.
He talked to students about jobs right after high school or using manufacturing to gain experience for a future career. Hertzer explained positions like welding, machining and robotics and how they range from entry-level, supervisor and engineering. He said some of the students were hearing about the positions for the first time and were amazed at how easy it is to get into a manufacturing career.
"The thing I tried to stress was that both skilled trades and college are great career pathways. I think it's important for students to understand they can have the best of both worlds," Hertzer said.
Before the presentation, students toured America Makes to get a firsthand look at opportunities in additive manufacturing. They learned about various projects and what they are used for in several industries.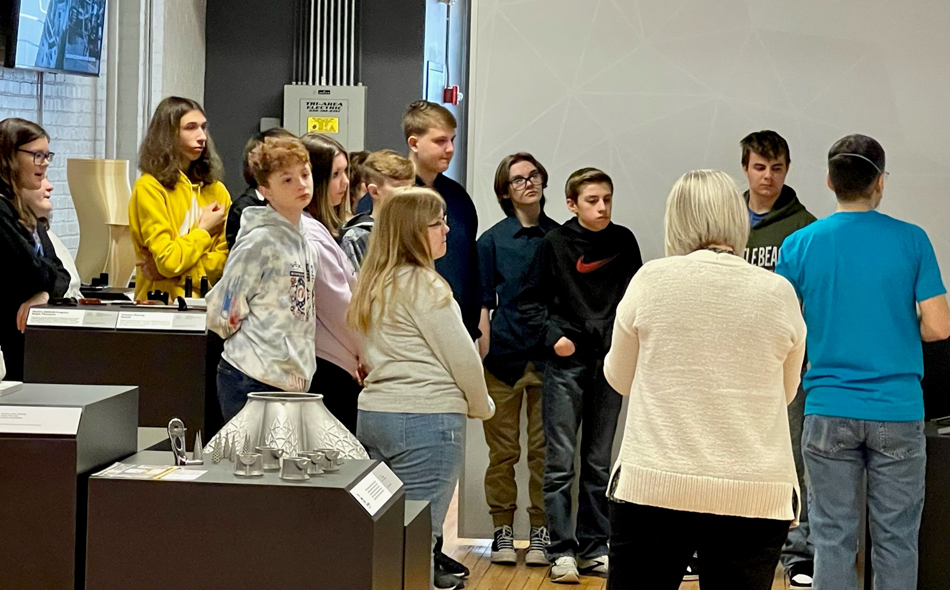 Here's the pitch
The Additive Edge is an entrepreneurship program students take part in for several weeks. It focuses on engaging them with education and career pathways in the advanced manufacturing sector. They work in teams to identify a real-world problem, develop a 3D printing-based solution, build a business model, and then pitch the idea to a panel of judges.
MVMC project manager Allison Engstrom was one of the judges for pitch day in early March. Freshmen and sophomores from two science classes presented their creations for the program.
She was impressed by a team that came up with an idea that affects almost everyone these days.
"My favorite was a group of young men whose product was a 3D printed phone case that would utilize solar panels to charge the phone," Engstrom said.
Schools participating in the Additive Edge program can use it in a variety of ways. They can choose a daily activity for several weeks, once a week for a semester, or a bootcamp-style course that's completed in one week. Teachers also take a training with an America Makes team member before the school's program begins. Once completed, America Makes attends the students' final pitch day.
Part of the bigger picture
Additive Edge is only part of what America Makes offers when it comes to education and training for various sectors across the country. Education and Workforce Development Director Josh Cramer says the "K-through-Grey" approach engages all talent nationwide for advanced manufacturing and STEM.
"That means reaching elementary, community colleges, post-secondary schools, underutilized talent and all the way to the Department of Defense," Cramer said.
He stresses it's about finding that pathway for a talent stream and making sure people know they can step in to learn at any time.
"This is where the collaboration with the MVMC comes in to ensure we're here together to increase awareness and pathways to create linkage to local industries," Cramer said.
He says there will be a $1 million facility going in at the Eastern Gateway Community College for added innovation. Work is expected this summer with the grand opening set for late fall. Cramer says the focus is about building in a curriculum. There is also an additive lab planned for OH WOW! Children's Center for Science and Technology.
Cramer says there's a constant need for training programs, apprenticeship frameworks, youth outreach supports and teacher education in the K-through-12 space.
"As technology advances, we're going to have a need to upscale manufacturers and workforce," Cramer said. "We're all focused on wanting to make the Mahoning Valley a place to live, work and be successful."