MVMC welcomes Advanced Metalforming Lubricants (AML) Industries, located on Pine Avenue Southeast in Warren – just across the tracks from the Municipal Building.
AML Industries was founded in 1989 and is owned by Dave Gurska, the president of the company. It's been in the same location since it started with just three or four employees and has since grown to 31. The company specializes in quality lubricants and coatings for metalformers throughout the world.
Forged with integrity
Matt Natale is vice president at AML. He says the company sells to businesses who make parts for the auto industry, aerospace, military, oil and gas industry, as well as agricultural equipment.
"Lubricants would be used for crank shafts, gears, anything that needs structural integrity," Natale said. "Anywhere there is a lot of pressure, too, you need a forged part."
He says forging is basically putting a solid piece of metal between two dyes and pressing it to strengthen, or forge, the part with the lubricant.
"There are about 7 or 8 families of lubricants that AML supplies, which are all specific to different parts and industries," Natale said.
Glenn "LG" McClellan III, operations manager at AML, likes to refer to the company's product as "industrial cooking spray." He's been at the plant for 12 years and got the nickname "LG" or "Little Glenn" since he's named after his father. McClellan oversees safety and compliance, personnel, production, scheduling, and anything to do with operations.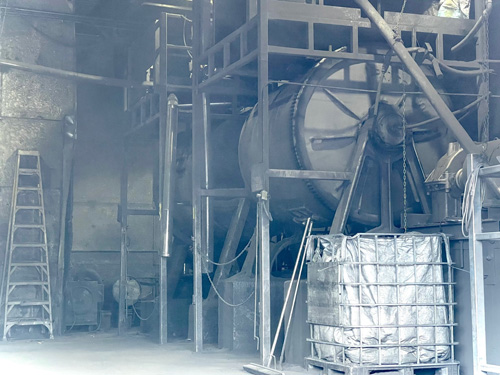 Refocused on workforce building
Immediately, Natale says the company needs five operators. The position requires running heavy equipment, machines and material processes.
"We're projected to need 10 people by the end of 2023," Natale said.
He says it's been difficult finding help post-Covid.
"We're willing to hire prospects with a non-violent, felony record. We're big into giving people second chances, and we try to understand things happen," Natale said.
AML was able to stay open in 2020 but couldn't avoid layoffs due to business being almost zero.
"We were able to secure money through the government's Paycheck Protection Program (PPP loan), and without that, we most definitely would've had to close, or at least temporarily," Natale said.
The company was considered essential during the pandemic, but McClelland says when things started getting back to normal, AML had to find new hires because almost none of the laid off employees came back. He says business is booming now, but more staff is needed to support the work.
Eyes on efficiency
Natale says the slowdown was eye-opening for building efficiency. The company has been able to improve processes for equipment and management of workflow.
McClellan mentioned there are three ongoing projects being paid for by the Ohio Safety Intervention Grant, which is through the Bureau of Workers' Compensation. These projects will eliminate risk to workers and improve efficiency of jobs. About a year ago, the company was also able to put in a new chemistry lab.
AML is family
A big takeaway Natale and McClellan want potential employees to know about AML Industries is that it's a family atmosphere.
"You're not just a number here. Anyone can talk to management about anything, or if a problem is going on, we'll have that connection with them," Natale said. "Sometimes we have even floated people money for groceries or something like that."
Management is also not afraid of being in the trenches. Natale and McClellan say they have both been in the plant alongside workers at some point. It's about showing appreciation for employees and what they do.
"We've even ordered food trucks to come sometimes as a treat for everyone," said McClellan.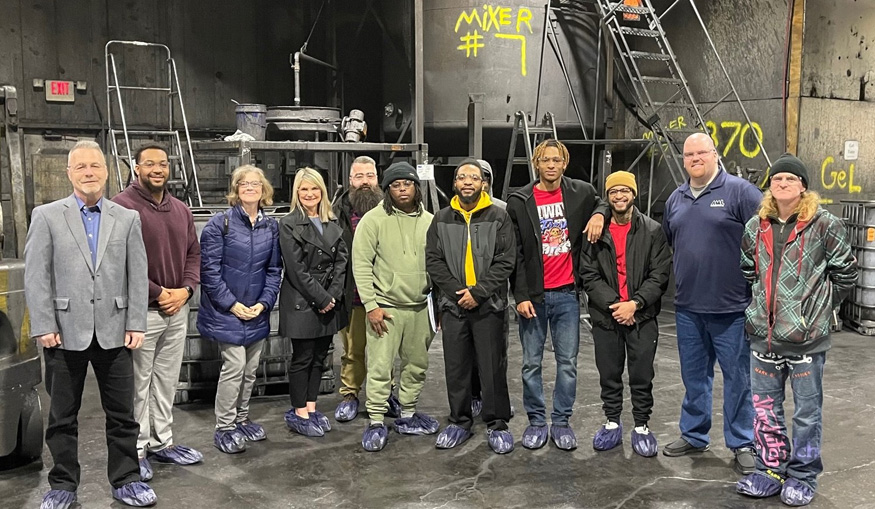 Why join MVMC?
Finding workers is a priority, and McClellan says the company learned about the Mahoning Valley Manufacturers Coalition at a recent job fair. A member was walking around with information, and he says it looked like there was a lot of recognition among vendors.
"It seemed like the group had a lot of impact, so I brought the information back to Matt, and we just decided from there it would be a good idea," said McClellan.
He also sees the benefits of the MVMC's WorkAdvance program. McClellan was able to sit down recently with several boot camp participants and tell them about AML Industries. Some of them are former justice involved citizens.
"They all had great questions, and I think they have a leg up over staffing services," said McClellan. "What I'm mostly seeing from other job services, I'll make the initial contact, but either people don't come for the interview, or they don't reply to my message about our interest in them."
He says it seems the prospects coming through WorkAdvance are intentional about being job ready. The same group also toured AML, and a couple even expressed interest in interviewing for a job.
McClellan also says he's interested in the MVMC-sponsored LEAN manufacturing course. AML is excited about training access for employees, youth outreach initiatives, as well as getting the company's name out there.
"We saw some customers in larger areas joining similar coalitions to help get workers. We're a small business, so sometimes we're competing with bigger names, so being part of MVMC might help with this," Natale said.
Interested in joining MVMC yourself? Contact Alex Hertzer at alex@mahoningvalleymfg.com.