Philip Minniti started at employee-owned, Girard-based manufacturer Brainard Rivet in 2015 and has parlayed his time there into an upward-trajectory career and a college degree.
"I started out running the cleaning department and then bounced around to packing, billing, and settled into the shipping manager position," Philip said.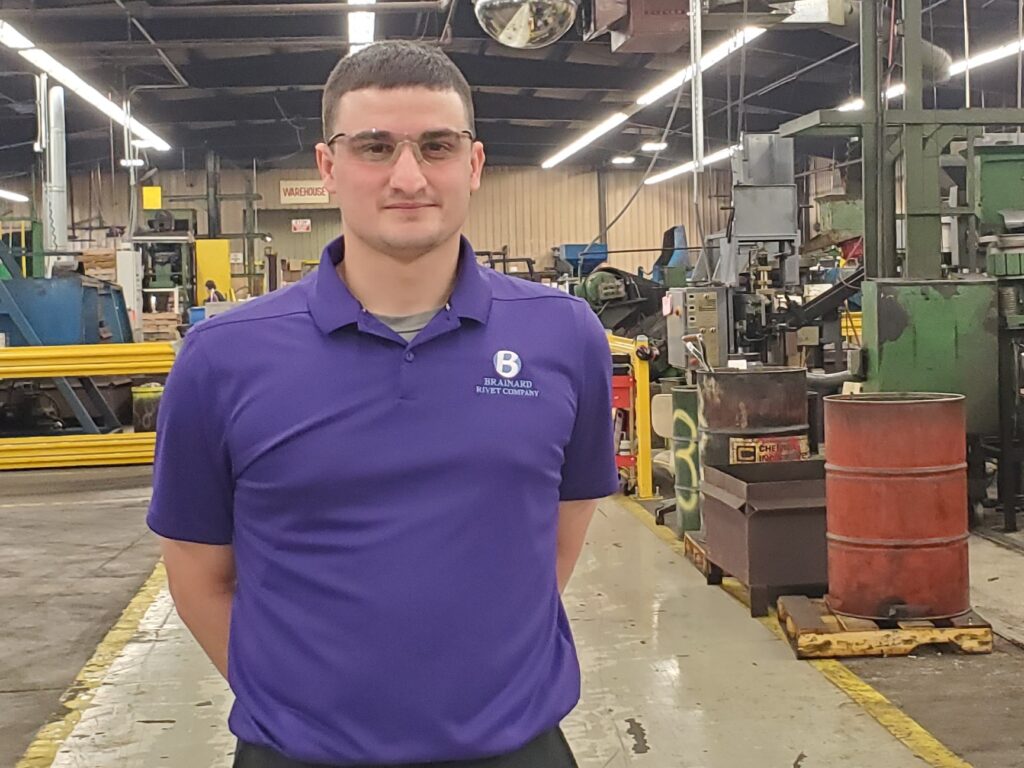 A 2011 high school graduate, Philip, like many of his peers went straight to college where he began pursuing a degree in Business Administration. To avoid taking out student loans, he took a part-time job with UPS that ended up being a heavier workload than anticipated. That, coupled with an orthopedic injury that led to a physical rehab schedule that conflicted too much with classes, led to Philip's withdrawal from college.
Family ties lead to Brainard Rivet
After leaving school, Philip was searching for a full-time position when he came across an opening at Brainard Rivet. After speaking with his uncles, one a current Brainard employee and one a former employee, as well as his grandfather, a Brainard retiree, he decided to go for it.
Six years later, Philip has settled into a position as shipping manager and, thanks to Brainard's educational assistance program, is back in college at Youngstown State University resuming his studies. His day-to-day tasks include scheduling each department to ensure shipments are being filled and going out on time, helping the sales team meet quotas, and assisting anywhere he is needed.
"When you have someone with a strong work ethic like Phil you can train them in different areas and see were the best fit for them is, and that's what we did. We tried him in a few positions and landed on shipping manager," said Chris Morrison, plant manager.
A bright future in manufacturing
Chris said he and the staff at Brainard allow adjustments for Philip's school schedule, adding that what Philip is doing is incredibly difficult, but not impossible. Philip hopes others who see his story will consider manufacturing as a career option.
Outside of Brainard and YSU, Philip enjoys a steady schedule of recreational sports and fantasy football. As for where Phil hopes to be after graduation, "I'm looking to go as far as they'll let me go here. I'm always willing to learn anything and everything."
Brainard Rivet is a world-class, cold-headed manufacturer of rivets and fasteners for the agriculture, distributor, energy, furniture, healthcare, mining, railroad, transportation and general metalworking industries. It began operations in 1916 and became employee-owned and operated in 1998.